Frequently Asked Questions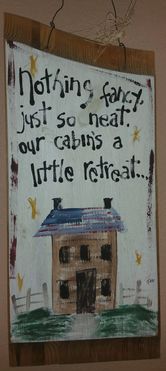 Q: Is there free Wifi?
A:
You bet! The password is displayed for you when you arrive.
Q: What is required of us as far a cleanup?
A:
Very little, actually. You will need to strip the sheets off of the beds that were used, and put them on the floor (so that we know what beds were used for sure). Also, wash and put away any dirty dishes, and take the trash outside. Other than that, we respectfully ask that you treat the cabin as your own, not leave any significant messes, and lockup when you leave.
Q: Can we use the beach?
A:
Of course! It is a private neighborhood beach, but that includes you! Since it's private, it doesn't get crowded, except for maybe on a holiday weekend. There are usually chairs available for you use, as well as picnic tables. During summer weekends, there are frequently large bonfires. Stop into the clubhouse, grab a drink, and warm up by the fire!
Q: Can we have more people than it says the cabin can accommodate?
A:
Sorry, the cabin was designed to accommodate 6, and there just isn't room to fit more comfortably. You will be signing an agreement that states you won't be having more than the allowed number of persons stay, and we ask that you respect that.
Q: Will anyone be coming to check on us during our stay?
A:
No, no one will bother you while you're there. The key word in all of this is "retreat". Of course, if you have a concern during your stay, please let us know and we will address it.
Q: Are children allowed?
A:
You can have anyone join you that you'd like, however, remember that this is a getaway for you and your housemates. Also, keep in mind that the cabin is not child-proof for young children.
Q: Will the cabin work for someone with limited mobility?
A:
The cabin is one floor, and also has a ramp at the main door. A standard size wheelchair will fit through the doors and one of the bathrooms. If you have a specific question about you or a friend's needs, please contact us.
Q: What time is check-in and check-out?
A:
Most likely, you will be able to arrive as early as you like on your day of arrival, and leave as late as you like on the day of departure. However, if the cabin is reserved by another party the day before or the day after your scheduled stay, it may be necessary for you to observe the designated check in/out times to allow time for cleaning. (Check-in time is 3pm, check-out time is 12 noon). You will be notified if that is the case.
Q: Why isn't the address of the cabin listed anywhere?
A:
As the popularity of the cabin grows, more and more people are curious about it and want to check it out. We certainly don't want someone showing up while you are there, asking for a tour. That is YOUR time. You will be given the address on your rental agreement. If you would like to check out the cabin ahead of time, please contact us and we would be happy to give you a tour while it's unoccupied.
Q: What's the parking like?
A:
There's room for 5-6 cars in the driveway, however, carpooling is recommended, if possible, to save on parking space. If you're in a pinch, you can park down by the clubhouse as well.
Q: What happened to the 2nd, "Lakeview" cabin, and why isn't it shown on your website anymore?
A:
The Lakeview cabin is no longer available to rent as of January 1st, 2016. For many years, The Craftin Cabin by the Lake consisted of 2 cabins, the Lakeview and the Woodview. After closing the Lakeview cabin, the remaining Woodview cabin is now simply known as the Craftin' Cabin by the Lake, all by itself.
​
If you have a question, please ask!
---
We LOVED the Craftin' Cabin! The special touches and the decor were really nice. The cabin smelled wonderful too! We liked being on one level for our crafting and sleeping quarters. Some of our group got a lot more done than me, but that is okay. We liked the option of checking in on Thursday and having a nice long weekend to scrapbook to our hearts content. It was nice to be close to home so we could run get something we forgot or go to other commitments if we had to. I will definitely plan another retreat with my gals! - Deanna, Janesville WI
FANTASTIC! My first time here, and loving it. Impressed with the detail put into the cabin for our crafting needs, you have thought of everything! Loved the movie access as I rarely get to see a WHOLE movie at home. We will definitely be back again! Susan, Cottage Grove
I really needed a girls LONG weekend! All 6 of us ate well, slept well, drank a few bottles of wine/champagne, walked and one us ran twice. We caught up on some Netflix tv series, made Christmas cards, baby books, dog books, children books, Christmas books, and family scrapbooks. I strongly encourage all groups to consider kicking off your girls' fun on Thursday, its well worth the time off from work and life! We laughed so much wish I could bottle up the environment to bring it back to home. - Laura, Algonquin, IL
Wow another fantastic weekend at the Woodview! I have now slept in 4 different beds over the last 3 years and I can honestly say that they all have been great to get my rest. Thank you for getting the Netflix too! We enjoyed a movie to help change to pace of yapping and scrapping. Again anything that we needed including corn for the squirrels and snow shovels were at our finger tips thanks!!! - Laura Illinois
I just finished unpacking from my 2nd crafty weekend with the girls in the Woodview cabin and we were, once again, thrilled with the experience. It's a small cabin but we have more than enough room to make cards, scrapbook and create jewelry. We love the fact that the person cooking meals can still be part of the fun and not sequestered in another part of the house. We have our third weekend booked for next year and plan on having many more. So many crafts, so many laughs, so little time. :) Thank you!! Kathy T. - Sun Prairie.
What an awesome place. I just spent the weekend in Woodview and had the best time. The beds were super comfortable, the kitchen well stocked and I loved the ample workstation. I completed 29 12x12 scrapbook pages, slept 2 full nights and had plenty of belly laughs for aerobic exercise. I'm looking forward to my next stay. - Kathy W. Baraboo
We had a fabulous time at the cabin this past weekend as we always do!!! We had Rachel come on Sunday morning and give us massages!!! It was wonderful!!!! We really enjoyed that and liked her technique!!! She set up her chair in the bedroom on the main floor!!! worked great!!!! :) We will definitely be taking advantage of that next time!!! Totally recommend Rachel from Healing Haven Spa!!!!- Amy S. , Fort Atkinson, WI
Thank you so much for everything!! Your cabin exceeded any expectation that I had. You thought of everything, from kitchen supplies, to magnets to take home, zip lock bags for left overs, cute signs to help us navigate how to work things... I had an amazing 2 nights of sleep tried the ear plugs on night 2 and woke up at 9:30am only because I had to use the washroom, or else I would have finished sleeping like a baby. Looking forward to a new tradition and coming back in a few months. Thanks for being so detailed on what a women and scrapbooker needs to have a great time! - Laura, IL
This my favorite place to scrapbook! I have stayed here twice and have done three other retreats and this is tops on my list! I am already on the prowl looking for another group so I can get back there... 42 layouts done! Thanks! - Amy M.
What a great time we had at the Woodview Cabin! Lots of quilting projects were finished accompanied by much laughter. Thanks for providing such a nice, peaceful place to have some girlfriend time. We'll certainly be back. Sandy, Deb, Alice, Connie, Rita & Susie - The Bitch N Stitchers
We had a great weekend at the Woodview! The cabin is so bright and sunny, it felt so cozy and comfortable, we all got a lot done. Every detail was thought of, the lighting, the layout, all the extras, even the squirrel feeder. We will definitely do it again. Thanks, - Helen, Nancy, Jenny and Judy
Had a great weekend at the Woodview!! A lot of laughs had by all. What a great girls weekend. :) Can't wait to come again in the fall!! - Kris, Jill, Juli, Kami, Michele and Theresa. Deforest, WI
Can't wait to come again!!! Was more fun than I've had at any other retreat!!!
Just got back from a fantabulous weekend and came right here to book again! Love the cozy feeling of this place and the bright and sunny craft room. It is so conveniently located, too! Can't wait to come back soon. - Lyssa, Watertown
The Craftin' Cabin is the perfect place for a girls' weekend retreat! Our group loved the atmosphere provided by the Cabin. Many pages were scrapped, rows crocheted and movies watched. If anyone is looking for the perfect crafting getaway, this is the place! - Alice
We had a great time at the Cabin and decided the time went way too fast! Those that came later on Friday that next time (yes, we're already talking next time) they're taking the day off so they can come earlier in the day. Projects we worked on: a blazer, crocheting a baby blanket, many scrapbook pages, 80 cards and watercoloring. - Sara, Shelli, Kayla, Kirsten, Stacey, Brenda and Jackie
Thanks so much for making the Craftin' Cabin available for us! It's obvious how much time and heart you have put into it - it's just comfie, cozy, and filled with all sorts of great details and surprises. What a great retreat! We really didn't wish for anything - it was all taken care of! Many thanks- Cari, Gina, Karen, Dawn, Sue & Amy - Iowa
We just wanted to let you know that our group had a wonderful time!! Your place is beautiful and we are definitely coming back again. We (8 of us) managed to be there 48 hours. We slept about 10 hours, shopped (at some cool scrapbooking stores) and went to dinner for about 5 hours, and scrapped about 33 hours!! A combined effort of 176 pages!!! Thanks again, - Karin, Rae, Holly, Jody, Nikki, Jodie, Luann and Lisa - Lomira, WI
Everything at the cabin is so well planned out. I was amazed at the conveniences available and the layout. I was able to focus on my work work and I finished nearly 60 pages in two days! It was awesome! - Kate - Janesville, WI
Wow! Another great weekend at the cabin. We accomplished much and laughed and ate even more! Can't wait to come back again. - Tami, Deb, Heather, Jodi, Mary, & Julie; Central Illinois
Just wanted to thank you for letting us rent the Craftin Cabin this past weekend! Your pics don't do it justice!! We found the accommodations absolutely wonderful and we had a great time! Makes me want to see the lake in the summertime...that's a big lake!! We're so fortunate to be able to find places like this for our retreats! - Nancy from Iowa
© 2018, Craftin' Cabin, LLC